CDE Tabulations Home
The pen (wand) type bar code scanners work best for tabulations. These connect to the keyboard port or USB port of the computer. USB to PS/2 converters can be used for computer without PS/2 ports.
Scanners are available from $100-300. We have had good luck with the Unitech MS120-3PS2 scanner (below). These are available from PC Connection and CDW for under a $100.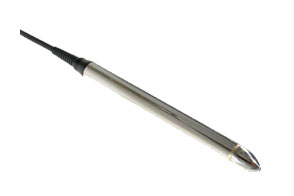 The Unitech MS-100-4 is a USB interface scanner that has also been tested. The USB interface is better for use with modern laptops and desktops that don't have PS/2 interfaces. (About $80.) The Model MS-100 is a plastic body.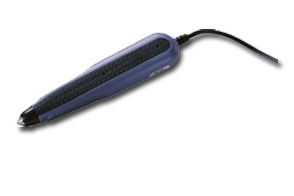 Any pen type scanner that can read and decode Code 39 should work.
Other Scanners:
Wasp 633808142407
Notes on using scanners:
When using a USB to PS/2 adapter the bar code may not reading properly (missing characters). This may corrected by setting the inter-character delay, Use the shortest value that allows the reader to work properly (ex. 3 ms). This appears the caused by transmitting the code to fast. The delay causes a pause between characters. NOTE: ALL USB to PS/2 adapters are not the same. Some work and some don't with scanners. TEST prior to the contest.